2020
FIRST "VERJUICE" MADE IN LUXEMBOURG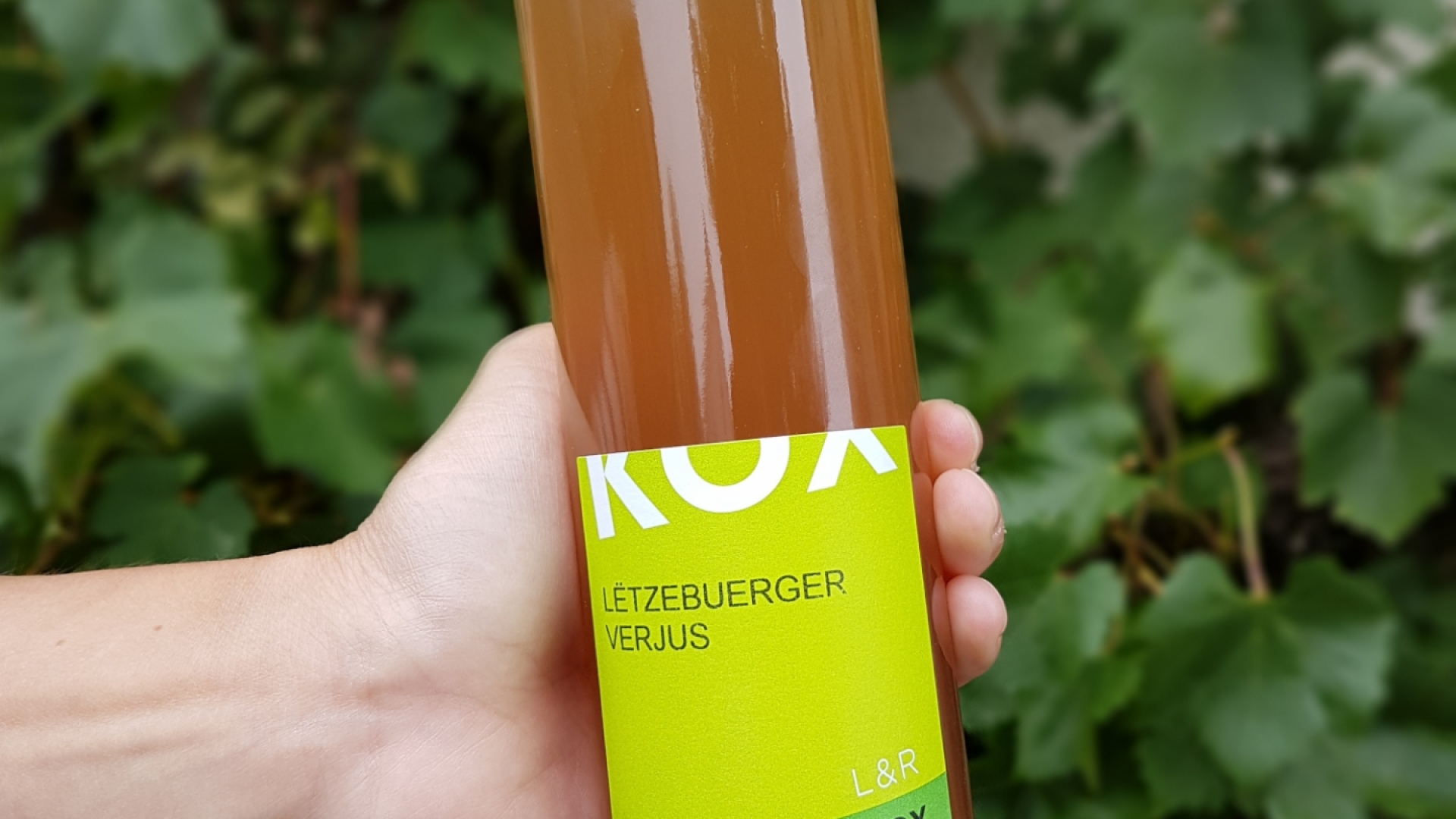 On August 5, 2020, Domaine L&R Kox launched its annual grape harvest! This is the earliest start date in the winery's history. This being said, it is not a harvest of grapes for wine production, but for the first "verjuice" produced in Luxembourg. "Verjuice", you say? ... Forgotten for centuries, verjuice was an essential ingredient in many recipes in the Middle Ages.
Verjuice is grapes and nothing else. The green grapes picked before maturity, hence its name verjus or vert-jus, then look like green peas. Close to the pressing method for our wines and crémants, the verjuice is also extracted from the grapes by pressing. Unfiltered, the verjuice can only be preserved by gentle pasteurization. The result is a grape juice with a marked acidity, while the sugar content is low. With its fruity bouquet, it is however sweeter and rounder than vinegar, and its aromas are finer and more discreet than lemon juice. A real alternative and a real treat for any chef. Available now in our e-shop and at the winery!
The history of verjuice
Depending on the terroir and the wine-growing region, the verjuice harvest takes place between mid-July and mid-August. In the past, verjuice was a food commonly used in Central Europe as a sour base in dishes, as a preservative or as a home remedy. In the 18th century, citrus fruits came onto the market, and verjuice fell into oblivion. In the Périgord and Bordeaux regions, however, the tradition never completely died out. In the 2000s, verjuice was also reborn in Austria and became an essential ingredient in haute cuisine.
Verjuice in recipes
In cooking, verjuice is used as a substitute for lemon, vinegar and sour juice. By bringing a pleasant acidity and fruitiness, verjuice can be used as a starter, main course or even dessert, without imposing its own taste. It is up to the chef to choose between refining soups, sauces and stews, marinating vegetables and fruit, giving a fruity and refreshing note to sorbets or any other taste creation. Moreover, verjuice is very fashionable in mixed drinks, "cocktails" or simply as a "spritz" version with sparkling water.
The verjuice-recipe from Julien Lucas, chef and owner of the restaurant "La Villa de Camille et Julien" :
Ingredients:
4 portions of 40 gr. of Pike fillet
20 cl Verjus Kox
50gr caster sugar
14 gr of fine salt
8 gelatine leaves
Roll up the pike fillet portions in cling film and dip them in water at 60 degrees for 30 minutes.
Heat the verjuice and then add the sugar and salt.
Soak the gelatine leaves in cold water and then add them to the hot verjuice.
Arrange the pike fillets in the bottom of the previously selected moulds and pour the verjuice just warm.
Set aside in the fridge overnight then unmould and arrange on a white plate.