The drone at the winery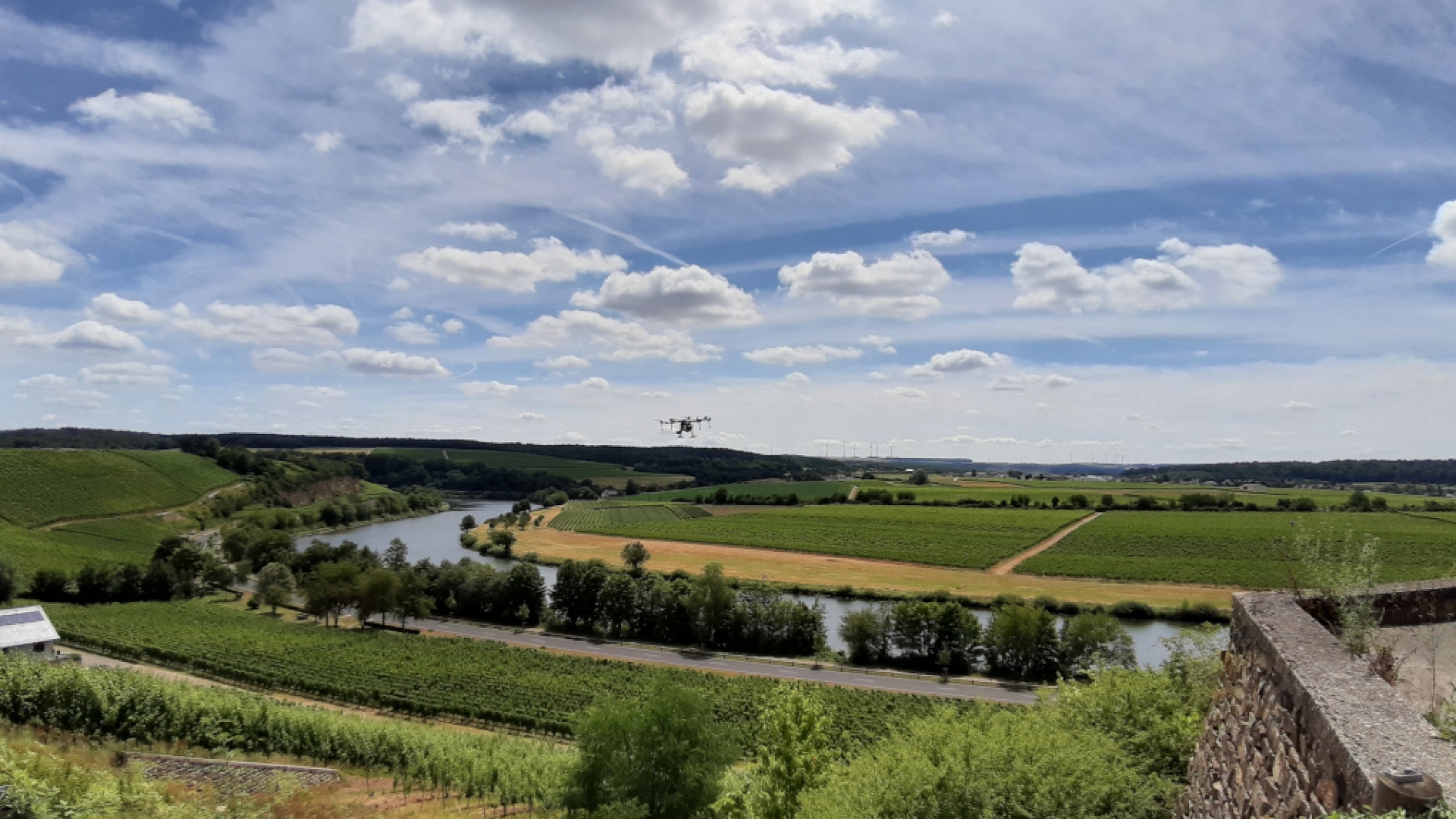 Domaine L&R Kox and Luxaviation Group launched a pilot project for the spraying of Luxembourg vineyards by means of drones this July 2019 in the Mosel wine region. The project was initialized by Corinne Kox, young winemaker with a passion for new technologies applied in viticulture.
During the second week of July 2019, instructor pilots experienced in aerial spraying, successfully flew equipment tests, followed by effective spraying with organic phytosanitary products in our vineyards.
Drones are part of a larger trend of data-driven agri- and viticulture and a movement towards higher efficiency and accuracy, reduced erosion, preserving the environment, reducing the noise pollution to neighbourhood and potentially enhancing the quality of the final product. Corinne Kox, Domaine L&R Kox says: "The many tests undertaken in research centres on using drones in vineyard treatments show the relevance of the unmanned aircraft as a promising tool in terms of input reduction, accuracy and protection of the soil and the environment. Smarter and more sustainable viticulture will be facilitated as a result of greater flexibility of spraying equipment used and adaptability in treatment schedules."
Since the appearance of devastating fungi on vine varieties at the end of the 19th century, particularly powdery mildew and mildew, winegrowers have had to fight cryptogamic diseases. Curative treatments to prevent the development of the cryptogamic diseases are currently not available. Winegrowers, therefore, are obliged to preventively protect the vines at regular time intervals. The reduction of inputs is a strategic challenge for the entire wine sector in terms of ecology and respect for the environment, brand image and financial costs. Contributions to the reduction of inputs in vine cultivation are made at several levels: the search for varieties more resistant to cryptogamic diseases (e.g. Cabernet Blanc, Pinotin etc), as well as the quantity and quality of spraying by influencing the choice of spraying equipment used, the preparation of dilutions or the application conditions.
Contact us